In the wake of Northrop-Orbital merger, Aerojet's solid rocket engine business teetering on the brink
habboin
23/07/2021
Rocket
1890
During the Cold War, the Pentagon bought enough solid rocket motors for intercontinental ballistic missiles to support seven suppliers. The demand for solid motors collapsed in the 1990s and dropped e...
During the Cold War, the Pentagon bought enough solid rocket motors for intercontinental ballistic missiles to support seven suppliers. The demand for solid motors collapsed in the 1990s and dropped even further after NASA retired the space shuttle.
There are now technically two companies that still manufacture large solid rockets for military ICBMs — Aerojet Rocketdyne and Northrop Grumman Innovation Systems, which absorbed Orbital ATK in a deal that closed June 6. The industry is poised to become a monopoly, however, as Aerojet's large solid rocket motor business is on not-so-solid ground.
While both companies have healthy production lines for solid rockets for tactical missiles, unless Aerojet gets new orders, Northrop could end up as the Pentagon's sole supplier of large solid rocket motors — generally defined as those greater than 1 meter in diameter.
The Pentagon flagged this issue as a concern in its 2017 Annual Industrial Capabilities report to Congress. "In the very near future all the large SRMs for strategic missiles and space launch will be produced by Orbital ATK," the report said. Among those large motors are the space shuttle-derived solid rocket boosters that will now be built under Northrop for NASA's Space Launch System heavy-lift rocket.
Aerojet has maintained a line producing strap-on boosters for United Launch Alliance Atlas 5 space launch vehicles and small development contracts from the Air Force Ground Based Strategic Deterrent (GBDS) program that is now in a competitive source selection between Northrop Grumman and Boeing.
The winner of the $85 billion GBSD program will produce hundreds of ICBMs to replace the aging Minuteman 3 nuclear missiles.
Aerojet's Atlas 5 business is closing down as ULA chose Orbital ATK boosters in 2015 for future Atlas flights and for its Vulcan next-generation launch vehicle. Aerojet is shutting down its large SRM production facility in Sacramento, California, and plans to reconstitute the line at its Camden, Arkansas, facility. "But they may not do so if they are not part of the winning team for GBSD, producing at least one SRM stage," the Pentagon report said. "This potentially leaves the United States with a single large SRM supplier, which can lead to cost increases due to lack of competition, decreases in internal research and development efforts, and risk of security of supply if a catastrophic accident should occur."
Industry consultant Loren Thompson, chief operating officer of the Lexington Institute — a think tank funded by major defense contractors including Aerojet Rocketdyne — said Aerojet is weighing a possible investment of $70 million in the Camden facility to increase production of large solid rocket motors.
"Camden now has the ability to produce just a half-dozen solid rocket motors a year," he said. "The question is whether they will invest any further. And they are not going to make the investment if they don't have a role in the Minuteman replacement."
Aerojet's bottom line is that it needs 30 percent of the GBSD work to remain a viable supplier. The entire program will require 650 first-stage engines alone. Each missile will have three stages. "GBSD will drive demand for SRMs for at least the next dozen years," Thompson said. "If Aerojet has no role, it is out of the business."
Whether it makes sense to fund two suppliers of solid rocket motors for the GBSD program is an issue the Air Force will discuss with Boeing and Northrop Grumman. The Air Force so far has not allowed the two GBSD primes to enter into an exclusive agreement with either SRM provider.
"Any guidelines on the number of suppliers required for the solid rocket motors for the Ground Based Strategic Deterrent ICBM will be addressed in the request for proposals for our engineering and manufacturing development contract," Air Force spokeswoman Maj. Emily Grabowski told SpaceNews.
The RFP is scheduled for release in the summer of 2019. "Each GBSD prime contractor is focused on proposing a solution to meet the government's objectives for a low-risk, affordable weapon system," said Grabowski. The GBSD program office will "assess cost versus capability for both prime contractors this summer."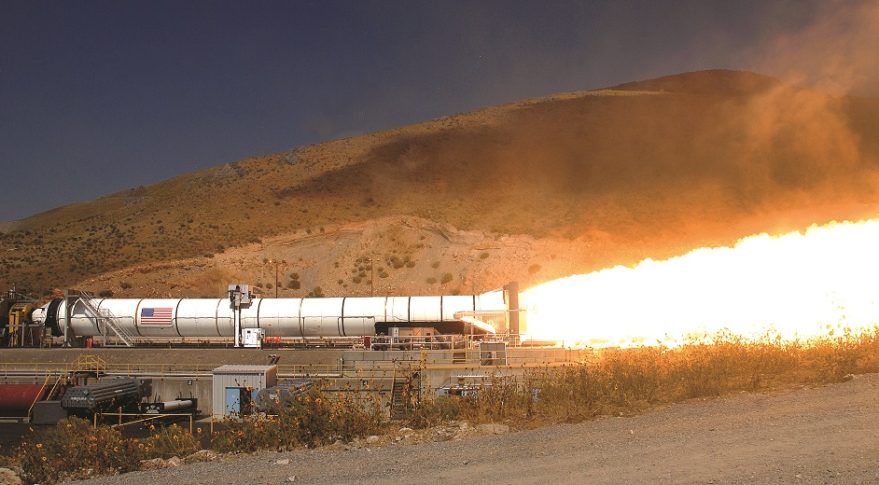 The situation got more complicated when Northrop Grumman last fall announced its intent to acquire Orbital ATK. Aerojet officials became alarmed by the prospect of one of the GBSD prime contractors also being the nation's dominant supplier of large solid rocket motors, therefore having no incentive to compete the work.
"Northrop Grumman should be commended for recognizing the value of this product when it bought Orbital ATK," Thompson said. "If Aerojet is forced out, this is quite a franchise."
The U.S. government took this into account in the review of the acquisition. In a ruling released June 5, the Federal Trade Commission said it will require Northrop Grumman to supply solid rocket motors to its competitors. And the company will have to run its solid rocket motor business separately from its other businesses.
In a news release, Northrop Grumman said it will make solid rocket motors and related services available "on a non-discriminatory basis to all competitors for missile contracts." It will establish firewalls to protect proprietary information that it receives from competing missile prime contractors or solid rocket motor suppliers.
Ellen Lord, the undersecretary of defense for acquisition and sustainment, will designate a Defense Department official to oversee Northrop's compliance with the FTC order.
The terms of the merger, however, did little to ease Aerojet's fears that it will have a hard time competing with Northrop's newly acquired solid rocket motor business, which has a larger production base and can offer more aggressive pricing.
Steve Warren, vice president and spokesman for Aerojet Rocketdyne, said the company will do what it takes to stay in the market. It is now producing 15,000 tactical solid rocket motors in Camden per year. "Aerojet Rocketdyne has made millions of dollars in targeted investments to position Camden for growth, and we're committed to making the additional investments necessary to build large SRM there as well," Warren told SpaceNews.
By any measure, Northrop Grumman will have an overwhelming advantage. It now operates Orbital ATK's four facilities: two in Utah that make large SRMs, one in West Virginia that produces tactical rocket motors, and one in Maryland that specializes in solid rockets for anti-missile interceptors.
There was a time when ATK (before it merged with Orbital Sciences in 2015) had way too much capacity for the available SRM demand. "We had facilities that were built to support weekly space shuttle flights and for the Cold War arms race," said a space industry veteran with close ties to Orbital ATK.
ATK a decade ago moved to rapidly consolidate its facilities and reduce its manufacturing capacity in line with the demand. The Pentagon may want two suppliers, but "can taxpayers afford it?" the space industry veteran asked.
ULA's decision to bounce Aerojet from Atlas 5 and switch to Orbital ATK motors as the Boeing-Lockheed Martin joint venture transitions to the Vulcan launcher stunned the industry. But the move spoke volumes about Orbital ATK's cost advantage, the space industry veteran said. "Vulcan has to compete with SpaceX. Cost was probably at the top of the list."
ULA, however, hasn't turned its back on Aerojet Rocketdyne. In May, it picked the RL10 hydrogen-fueled upper stage engine over Blue Origin's offering for Vulcan. Aerojet also produces the hydrogen-fueled RS-68 main engine for ULA's soon-to-retire Delta 4 rocket and still hopes to convince ULA to use the kerosene-fueled AR1 for Vulcan's main stage (ULA, however, has said the lead contender is Blue Origin's BE-4 engine).
With regard to GBSD, the space industry veteran said Aerojet's fears may be overblown. Orbital ATK has a long history of setting up firewalls in its defense and commercial business, and Northrop Grumman has every incentive to play by the rules. If Boeing were to win GBSD, Northrop would want to ensure it gets a sizable piece of the SRM work. The industry veteran predicts that no matter who wins GBSD, Aerojet will get one stage.
With the Trump administration about to complete a study of the defense industrial base, Aerojet is hoping the Pentagon will mandate multiple providers as it did in the Minuteman 2 program in 1968. Aerojet has made stages for every strategic rocket starting with Polaris through Minuteman 3.