Northrop's strong grip on solid rocket motor market crippled Boeing in ICBM competition
habboin
20/07/2021
Rocket
2263
 Boeing confirmed on Thursday it is bowing out of the Air Force Ground-Based Strategic Deterrent program, an estimated $85 billion effort to replace the Minuteman 3 intercontinental ballistic mis...
 Boeing confirmed on Thursday it is bowing out of the Air Force Ground-Based Strategic Deterrent program, an estimated $85 billion effort to replace the Minuteman 3 intercontinental ballistic missile.

The GBSD is the ground-based leg of the nation's strategic nuclear triad. Boeing was expected to compete head-to-head against Northrop Grumman for the engineering and manufacturing development phase of GBSD. The Air Force on July 16 issued a request for proposals for EMD and five production lot options.
In a statement, Boeing said it is dropping out because the cards are stacked in favor of Northrop Grumman. The news was first reported by InsideDefense.com.
"After numerous attempts to resolve concerns within the procurement process, Boeing has informed the Air Force that it will not bid Ground Based Strategic Deterrent Engineering and Manufacturing Development under the current acquisition approach," the company said. "We've evaluated these issues extensively, and determined that the current acquisition approach does not provide a level playing field for fair competition."
Boeing concluded months ago that it faced an insurmountable disadvantage because of Northrop's dominance of the solid rocket motors market following its acquisition of Orbital ATK in June 2018.
Leanne Caret, president and CEO of Boeing Defense Space & Security, said in a July 23 letter to Air Force Assistant Secretary for Acquisition Will Roper that the company was disappointed that the Air Force did not address the company's concerns and therefore decided to not submit a proposal.
"Boeing has repeatedly informed the Air Force, beginning with our response in April 2018 to the Air Force's first request for information, that the GBSD EMD competition must address the unfair advantage that Northrop holds as a result of its control of solid rocket motors, the essential component of the GBSD missile system," Caret wrote in the letter, a copy of which was obtained by SpaceNews. "Notwithstanding these repeated communications, the final RFP takes no steps to mitigate Northrop's anticompetitive and inherently unfair cost, resource and integration advantages related to SRMs. As I said in my July 8 letter, we lack confidence in the fairness of any procurement that does not correct this basic imbalance between competitors."
Orbital ATK before it was acquired by Northrop was one of just two suppliers of solid rocket motors, along with Aerojet Rocketdyne. But Orbital ATK had an overwhelming dominance in the large solid rocket motors that are used in ICBMs. During the Cold War, the Pentagon bought enough solid rocket motors to support seven suppliers. The demand collapsed in the 1990s and dropped even further after NASA retired the space shuttle.
The Pentagon flagged the solid rocket motor sector as a concern in its 2017 Annual Industrial Capabilities report to Congress. "In the very near future all the large SRMs for strategic missiles and space launch will be produced by Orbital ATK," the report said. Among those large motors are the space shuttle-derived solid rocket boosters that will now be built for NASA's Space Launch System heavy lift rocket.
Boeing's decision to pull out of the GBSD program could have been predicted as soon as Northrop Grumman acquired Orbital ATK, analysts observed.
"When Northrop Grumman acquired Orbital ATK it also acquired a structural advantage in pricing its GBSD offering," said industry consultant Loren Thompson, of the Lexington Institute, who advises Boeing and other major defense companies. "This is one of those times when a vertical integration strategy can give a company a really competitive edge."
Boeing's move leaves the Air Force in a predicament, with only one bidder in a high-stakes program. "We believe this could force the Air Force to reconsider the acquisition strategy, will raise concerns in Congress, and potentially lead to Federal Trade Commission inquiries about Northrop's adherence to the Orbital ATK merger consent agreement," Roman Schweizer, defense analyst at the Cowen Washington Research Group, wrote in a memo to investors.
Under the terms of the Orbital ATK acquisition, Northrop Grumman was obligated to supply solid rocket motors to competitors "on a non-discriminatory basis" and in programs where Northrop is also bidding as a prime. Northrop also had to set up firewalls to keep it from using any proprietary information in a manner that harms competition.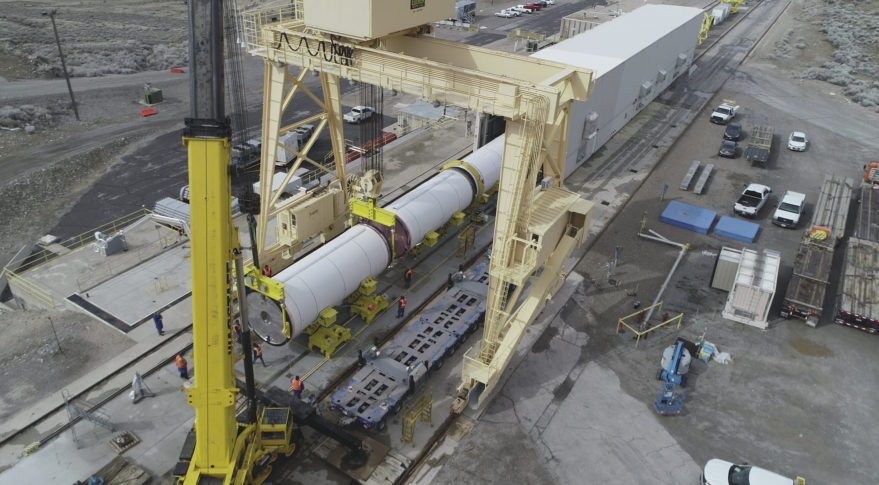 But Boeing told the Air Force that an arrangement with Boeing as prime and Northrop as a subcontractor would not work, sources said, and suggested the Air Force provide the ICBM engines as "government furnished equipment." That would have required the Air Force to separately buy the solid rocket motors used in each of the three stages of the missile and provide them to both competitors. "That would largely level the playing field," one industry source said. The Air Force did not agree to that strategy.
Analysts said it's not clear that Aerojet Rocketdyne would be a viable competitor for large solid rocket motors — generally defined as those greater than 1 meter in diameter. Orbital ATK gradually cornered that market after securing large orders from United Launch Alliance, NASA and the Navy, displacing Aerojet Rocketdyne which continues to supply smaller solid motors for tactical missiles.
Aerojet Rocketdyne is aligned with both GBSD teams. With Boeing out of the running, its future role in the program could depend on how the Air Force moves forward with Northrop Grumman as the sole bidder. If the Air Force requires Northrop to use Aerojet Rockedyne's solid rocket motors for one of the three stages of the GBSD missile, that might give Aerojet enough business to keep its large solid rocket motor production going.
"There is a perception that after we completed the Atlas 5 contract [for United Launch Alliance] that we have decided to not pursue the large solid rocket motor market, but that is not the case," Aerojet Rocketdyne's chief operating officer Mark Tucker told SpaceNews on Thursday. He said the company has shuttered old facilities and invested in new manufacturing technology at its Camden, Arkansas, plant for the possibility of winning a GBSD contract. The company does not have orders today to ramp up production but is making sure it has the engineering and manufacturing skills to meet potential GBSD demand in the future, he said. Aerojet had been in discussions with Boeing, Tucker noted, but Boeing never requested pricing information from Aerojet on solid rocket motors.
Political backlash
Tom Karako, of the Center for Strategic and International Studies, expects this issue to gain attention on Capitol Hill. "The House Armed Services Committee report language once again expressed congressional concerns that rocket motor production could slow the GBSD program. In its next report to Congress on the matter, the Air Force may wish to consider using a team of suppliers or some kind of a national team in order to meet capacity, rather than a single source," he wrote in a DefenseNews op-ed.
"One option would be for the Air Force to re-write the RFP to address some of Boeing's concerns, which could delay the program," industry analyst Byron Callan, of Capital Alpha Partners, wrote in a memo. "The Air Force could proceed with the program as sole source and award it to Northrop Grumman," Callan noted, although that would spark political backlash.
Sources said Boeing leaders believe the company was put into a corner. These sources said Boeing estimated that Northrop's price for the EMD phase of GBSD would be hundreds of millions of dollars lower than Boeing's.
An Air Force spokesman said in a statement to SpaceNews: "We remain in source selection and do not have any additional information to share."
Industry analyst Jim McAleese, of McAleese & Associates, warned months ago that there is "no specific remedy to address inherently cheaper Northrop/Orbital solid rocket motor GBSD pricing." Northrop's pricing would be based on "one overhead, one profit allocation," McAleese wrote. A potential Boeing-prime/Northrop-subcontractor solution — with two overheads, and with Boeing's profit on top of Northrop's profit — would be far more costly.
McAleese suggested that Boeing missed a big opportunity by not buying Orbital ATK. "Arguably, Boeing had the same opportunity to buy Orbital as well, to eliminate that GBSD pricing advantage."
The Air Force awarded both Boeing and Northrop Grumman contracts to develop preliminary GBSD designs under the "Technology Maturation and Risk Reduction" phase. Both companies in July 2018 submitted "trade studies" to help the Air Force draft program requirements. The final RFP was released last week.
McAleese frequently characterized GBSD as a "must win" and a "franchise" program for Northrop Grumman because of its long-term ramifications.
CEO Kathy Warden told analysts on July 24 during a second quarter earnings call that the company is confident about its chances. "Northrop Grumman has been a trusted systems engineering partner for every new ICBM system over the last 60 years," she said. Following the release of the RFP, Warden noted, "there is a 150-day response period, so we will be submitting the proposal late this year and still expect an award in the mid-to-late part of 2020.
Warden described the GBSD as a phased program that starts with the development of a modern ICBM system and then moves into production over a number of years before it transitions to sustainment. "But that sustainment scope is not part of the RFP for this offering."